So, apparently:
My computer geek score is greater than 100% of all people in the world!
And they also say;
Your computer geekiness is:

Step aside Bill Gates, Linus Torvalds, and Steve Jobs… You are by far the SUPREME COMPUTER GOD!!!
Ohwell. I only answered truthfully to all the questions, and actually though "fsck, I won't get full score on that question, but cheating is no fun". And then I get a score that's 100% better than everyone else.
Like, I do actually have a girlfriend, and she is not geeky, etc.
Anyway, it's a stupid test. A bit funny at times though ;-)
A bit sad getting that score as well though. I should really spend less time on the computer.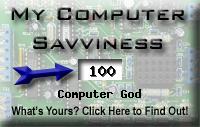 But I also like pretty things, – while that picture looks really horrible.